MTB Trails is a company formed by Wade Simmons and Sharon Bader under which they published Locals' Guide to North Shore Rides and Locals' Guide to Fraser Valley Rides. The guide books featured descriptions for all of the more popular riding trails as well as suggested routes for the different riding areas. All of this content was included in the apps. The apps have become outdated over the last few years and are no longer supported, or available.
In its day, the North Shore app was used to its full potential. I had received feedback from first responders in multiple jurisdicitons that the app was indispensable in assisting them with the locating of distressed trail users. The users were actually using the ICE feature (available in all TrailMapps apps), and were providing their geographic coordinates to dispatchers! I was very proud of this fact. Apparently, there are other app services that somehow get away with showing all of the illegal and unsactioned trails, so those are now the go-to apps for first responders in the area.

Beyond the suggested route overlays, descriptions, elevation profiles, and Sterling Lawrence photography, the app also featured an often-overlooked overview map that covered many trails outside of the common riding areas of Cypress, Seymour, and Fromme. This map will eventually be featured in a separate product, as it is a map I've been working on since the late '90s. This will be a standalone map product of the North Shore trails and will not include trail descriptions, or any suggested routes. It will simply be a big, beautiful map:-)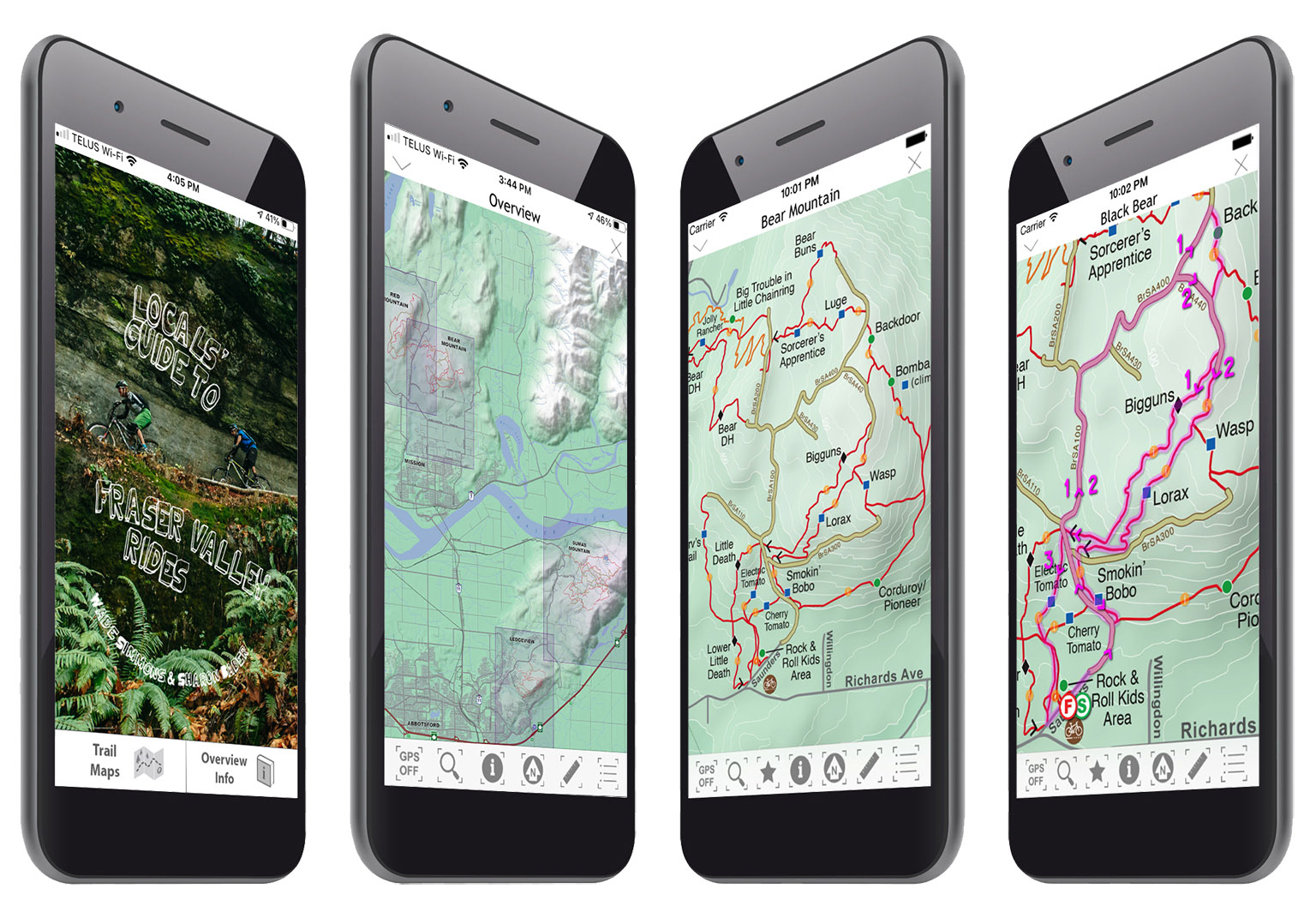 The Fraser Valley app featured an overview map as a navigational map menu for the large scale, detailed maps of the different trail networks covered. Each network included suggested route overlays with descriptions and elevation profiles.

Cartography and App Development by TrailMapps.com - Maps, Images, and Content are Copyright TrailMapps.com